The Internet makes it very easy for hackers to break into your WordPress website without even having to leave their desk: On average, 18.5 million websites are infected with malware at any given time in the world. An average website gets attacked 46 times a day. Among all the hacked websites, almost 80% are built using WordPress. That's why you need to take your website security very seriously and take as many precautions as possible to secure it properly. 
I could go on and on and explain to you why WordPress security is important, but I think you understand what exactly I am trying to explain.
So how can you implement the security system you need on your website?
To start, WordPress already has some built-in security measures. It is also crucial for you to choose a good and secure web hosting company — with a host like WP Engine, many security features are already built into your hosting account. Besides these steps, you can take some additional measures to tweak your website protections with some WordPress security plugins. There are so many different types of security plugins available for WordPress websites. How can you know which is the best one for you?
Rather than taking days to go through and research about all of those plugins, you can just check out the ones that I've listed below. I've identified the top WordPress security plugins of 2021. Use this information to increase your WordPress website's security and add credibility to your business.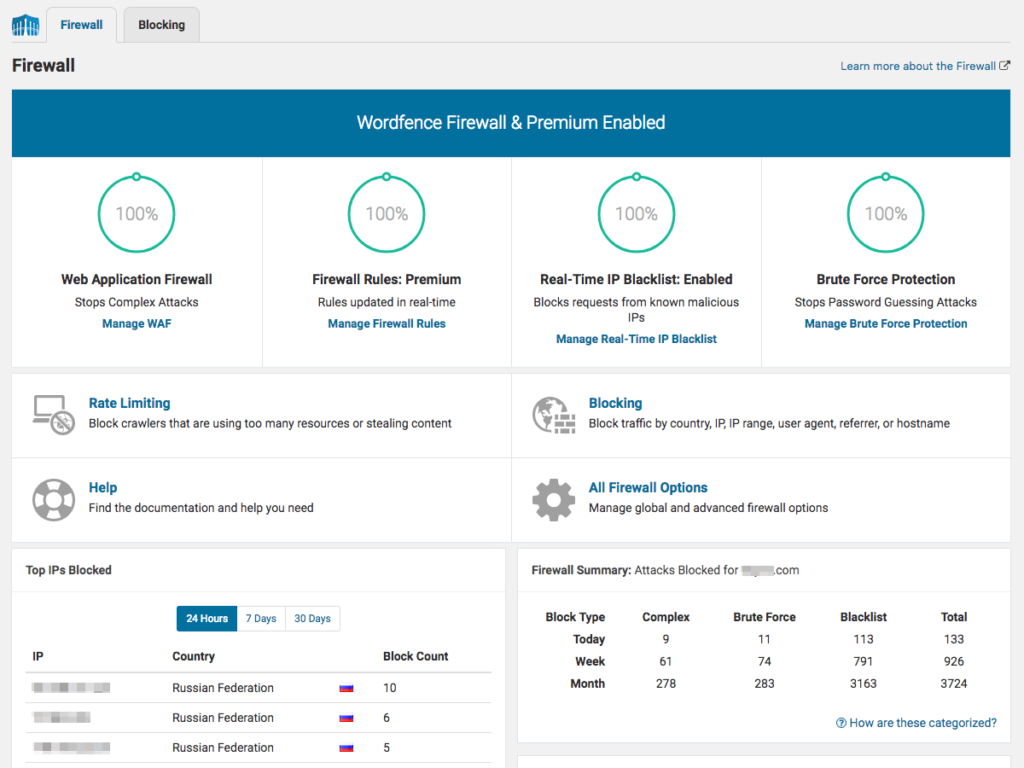 This is one of the most trusted WordPress security plugins available, with over two million active installs. It fights against spam, malware, and other threats in real-time. Unlike other plugins, Wordfence Security offers an extremely user-friendly dashboard. You don't really have to be a technical guy, have an IT background, or study cybersecurity to use and understand all the options available in wordfence. All options available in this plugin are pretty straightforward and easy to understand.
One of the favorite parts of this plugin is seeing all the data about your overall website visitor trends. Your wordfence reports will show you all attempted hacks on your WordPress website. You'll even be able to tell if traffic is coming from humans, Google crawlers, or potentially malicious bots.
The free version of Wordfence Plugin offers plenty of important features that will keep your WordPress website secure. They definitely offer you more out-of-the-box features than any other free security plugins available out there. You'll get free firewall blocks and brute force attack protection along with a great scan and fix feature.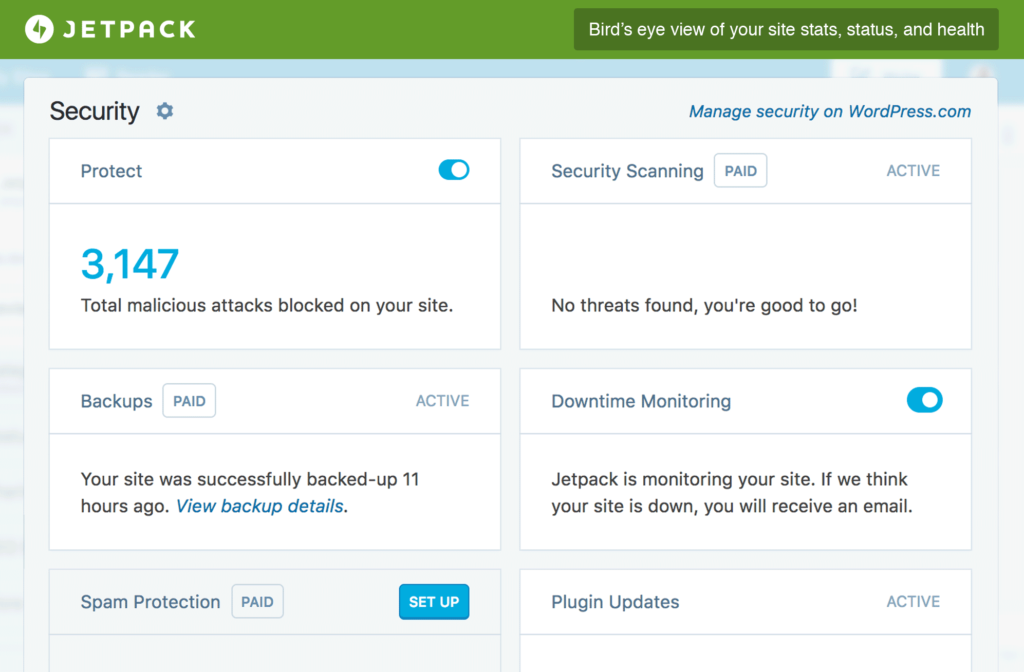 Jetpack is considered a WordPress powerhouse. It improves performance and protects your website as well, including advanced WordPress security, automatic website backups, easy analytics, marketing, site speed improvement, and much more. With more than 5M+ users and frequent plugin updates, Jetpack is one of the most reliable plugins.
While Jetpack offers many different WordPress features, its advanced security functionality is incredibly powerful. As such, it is excellent for anyone needing real-time security scans, backups, and anti-spam protection.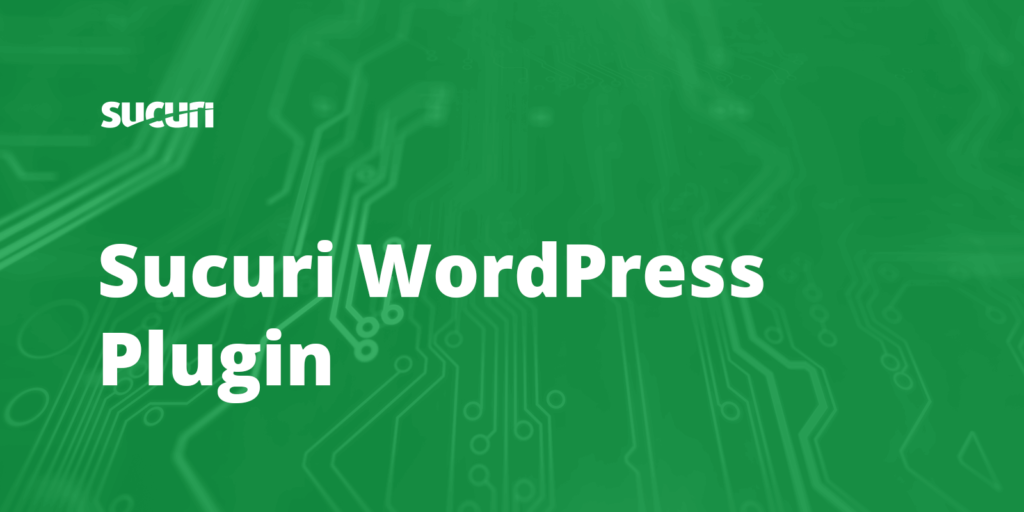 In the event of a hacking attack, Sucuri offers actionable steps to help you proceed with repairing your website. Now, many of you might not like hearing this. But in reality, it's nearly impossible for any website to be 100% secure. There are always chances of going something wrong with your website. When it happens, you'll instantly receive a notification from Sucuri about it so you can act immediately and fix the issue.
Sucuri is quite proactive about this. They aren't just going to promise that the plugin is totally effective. Rather than making false promises, they have added few features to assist you when your site is hacked. Features provided by the Sucuri plugin are really exceptional. It is effortless to go through and check the status of your website's different elements to add additional security.
The iThemes Security plugin is another very popular choice for WordPress website owners. Unlike the other plugins we've checked so far, this doesn't offer many free benefits, so it'll be good if you upgrade to the pro version of this plugin.
The scanning feature will identify all potential vulnerabilities on your website for an attack. Once those areas are identified, the plugin shows you how to repair those issues properly. iThemes Security even helps strengthen the WordPress website security and make your server more secure. The plugin forces SSL active URLs for all admin pages on supporting hosting servers. iThemes Security will hide the most common WordPress security vulnerabilities that hackers usually target. It also sends email notifications anytime there is a problem or potential security threat on your WordPress site. So if you are considering going with a paid security plugin, iThemes security could be a great option for you.
This plugin is packed with awesome free features. The interface is straightforward to use, and you don't need to be a technology or security expert to figure things out.
One of the reasons this plugin made my list is the visual elements available on the plugins dashboard. You can get all reports with visual graphs that explain all of the metrics related to your WordPress website's security. The plugin also tells you which actions you can take to improve your WordPress website's security.
It also scans your WordPress website for all vulnerabilities and helps you implement changes to enhance your security. A grading system measures everything. The grades mentioned there are based on different levels of security for each element on your WordPress website.
Another top feature offered by this plugin is spam protection for your blog's comments section. Receiving lots of comments on your posts or other pages is extremely beneficial for SEO, but not if they are spam entries. Instead of manually verifying them and deleting them, this plugin can do it automatically for you. It detects the IP addresses that are known for producing spam and blocks them. If certain IP addresses have exceeded a specific number of spam comments, it will block them from accessing your site itself.
I haven't mentioned the best part of this plugin yet. This plugin is 100% free. Unlike other free versions of other plugins, All In One WP Security & Firewall doesn't withhold top features and pitch upsell. It's completely free to all WordPress users.
It's tough to name a single plugin as the best, but I've been able to narrow down this to the top five for you to consider in 2021. It all depends on what you're looking for. Checkout Our Security Setup Service or Full Time Maintenance Plans if you need any help while managing your website.