Founded in 2015, Ainygo Technologies has an established team of WordPress professionals. We love offering reliable WordPress maintenance and support to all types of WordPress websites. Our WordPress support plans are crafted carefully with years of experience and by keeping client satisfaction in focus. Considering the current and future technical requirements of your WordPress websites, here at Ainygo, we keep evolving our support methods continuously so we can offer you the best possible support experience.
If there is one thing we never compromise on that is our quality. We believe in delivering best and that is what we do.
We love what we do. Every individual at Ainygo is hired for the driving passion they have for their work.
Customer centric approach
Businesses are defined by how well their customers think of them. We are what we are today because of our dedicated services that our clients appreciate.
We don't take undue advantage of our customer's ignorance of technological elements and always give them honest support at best possible price.
We cover all areas of your WordPress Website
Whether it is a simple WordPress website or a complex one with tons of plugins, we handle all of them. Feel relaxed while choosing our services because your website will be in safe hands. You will always receive a high standard of WordPress support that you can trust on.
Get more time to focus on your business expansion or improve your product offerings. In other words, stop worrying about your website's maintenance and security because here at Ainygo, we are fully dedicated to helping WordPress website owners like you every day and every time.
Some of the most popular WordPress plugins and web service providers we support are Elementor, Divi, WP Rocket, WooCommerce, Cloudways, WP Engine, Gravity Forms, litespeed, Jetpack, Cloudflare, Wordfence, Paypal and of course, this is not the end of the list. Feel free to contact us to know more about how can we help you.
Solutions we offer at Ainygo
Plugin Conflict, Failed Updates, Malware Removal, and Security Setup. We fix all types of WordPress issues.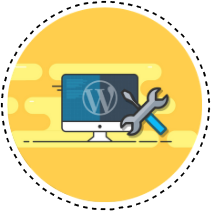 With our regular maintenance plans and support, we are committed to keeping your website safe and stable.
From website migration to server optimization, we offer all types of server support services.
It's our job to help you with you WordPress website. That means matching you up with the best support plan that will help you grow digitally while also being respectful of your budget
Clients are always our priority. Here's what they think about our personalised WordPress support and maintenance services.
Prompt response and agent seemed very knowledgeable in what he was doing.
These guys are awesome! Very fast delivery of project, very helpful and will work with them again definitely. Thank you so much

Business Owner From Greece
They were on-board right from the second. Very keen to get the job done.
Lightning fast communication and very keen to get the job done for you on a strict deadline. Thanks for your work Anjanee ! I'll be back soon!
Responded instantly (!) and did the job straight away. Highly recommended!
They also did additional tasks to help me and for that I am grateful! Very kind! and done a great job. I plan to work with these guys in the future.

Business Owner From Sweden